Both these statements initially looked to me as what every FOSS proponent would say… Open is cool, right?
"With Mautic, Acquia is now the only open and open source alternative to the expensive, closed, and stagnant marketing clouds."
"Open Source will disrupt every component of the modern technology stack. It's not a matter of if, it's when."
But after 4 days of collecting any available information, reading and re-reading everything that has been published and carefully evaluating every word of what the masterminds of this Acquisition had to say, I have come to realize this is actually the core of Acquia's strategy going forward. Bare with me, we are in for a hell of a ride!
---
Not many people saw this one coming, I knew Mautic would not be able to get a new round of funding, the current market was not favorable, I believed an acquisition was quite a real possibility, but I was thinking more along the lines of some marketing company… I certainly never saw this particular move coming, probably because I didn't know that Acquia was taking Drupal way beyond just content management, and had been doing it for quite a long time in fact. Now it's clear that vision goes even further, much further…
Anyway, I thought this was a very good time to review what has transpired as well as some of the key actors, learn about Acquia's vision for the future and what might be happening to Mautic and the community in the next weeks or months.
Posts, articles, and key people.
It was hard for me at first sight, to understand what was going on and even harder to understand what this acquisition would mean to Mautic's future, let's try to separate the marketing gibberish from the insight, 2 pieces of content stood out of the clutter as they contained some really valuable insight into the future.


DB hurley is the Founder of Mautic, I'm sure by now everyone paying any attention to this blog has already read DB Hurley's: Mautic's Future Starts Now: An Exciting Announcement
DB has a brilliant, piercing and cunning mind, I can perfectly conceive that the current events might have had a place on his agenda for a long time. While a touch too machiavelic for my own liking, he is definitely a most relevant person and one of the key people in this operation. His recent post about the Acquisition is more on the inspirational side and contains little insight into the future of Mautic, so let's get straight to the savory nuggets:

From Aquia's website: FAQ ABOUT THE ACQUISITION OF MAUTIC BY ACQUIA
(I have underlined what appear to me as key insights or at least repeating themes)
Who is Acquia?
Acquia is the open source digital experience company. We provide the world's most ambitious brands with technology that allows them to embrace innovation and create customer moments that matter. At Acquia, we believe in the power of community – giving our customers the freedom to build tomorrow on their terms.
Why is Acquia acquiring Mautic?
The addition of Mautic's marketing automation and campaign management capabilities to Acquia's broader Digital Experience Platform will drive seamless, one-to-one customer experiences across any digital channel…

What gap does Mautic fill in Acquia's technology portfolio?
Adding Mautic, the world's only open source platform for marketing automation, to Acquia's portfolio completes Acquia's vision of building the industry's first Open Digital Experience Cloud. Together, Acquia and Mautic will offer the only open alternative to expensive, closed, stagnant marketing clouds.

Are there any changes to Mautic executive management?
All executives will become part of the Acquia team. Matt Johnston will remain the leader as the General Manager, Mautic. DB Hurley will become CTO, Marketing Hub.


Will all Mautic employees join Acquia?
All Mautic employees have been offered positions at Acquia as of the deal closing.


What is the vision of the merged company?
Ultimately, Acquia and Mautic technologies will combine to form Acquia's Open Digital Experience Cloud, giving customers the agility they need to embrace advancements in new technologies including AI, voice and connected devices.


Will the Mautic name and products continue to be used?
For the near term, there will be no changes to the existing Mautic products. The Mautic Open Marketing Cloud will become a part of Acquia's Digital Experience Platform. We will be finalizing further details in the next 90 days.
Now let's put it all together in one single paragraph (or 3):
Acquia is the open source digital experience company, at Acquia, we believe in the power of community, giving our customers the freedom to build tomorrow on their terms.
The addition of Mautic's marketing automation and campaign management capabilities to Acquia's broader Digital Experience Platform will drive seamless, one-to-one customer experiences across any digital channel…
Adding Mautic to Acquia's portfolio completes Acquia's vision of building the industry's first Open Digital Experience Cloud.Ultimately, Acquia and Mautic technologies will combine to form Acquia's Open Digital Experience Cloud, giving customers the agility they need to embrace advancements in new technologies including AI, voice and connected devices.The Mautic Open Marketing Cloud will become a part of Acquia's Digital Experience Platform.
The key-words seem to be:
"Open Digital Platform"
"Open Digital Experience Cloud"
"Open Source Digital Experience" (whatever this means)
"Digital Experience Platform"
My takeaways:
I'm thinking… If you want the best "Experience" and the ultimate "Platform" you really don't want a bunch of unrelated tools from different companies, you want a unified experience over a consolidated platform. This makes me think this is, more of a merger than it is an acquisition, of course, the distinction has limited relevance since the companies are not public. However, I think, this little language nuance could have a strong impact on what Mautic Cloud transforms into as well as what the Mautic community.

Note: An acquisition is when a company buys another company but the latter retains its structure and it's business functions as separated entities from the purchaser, a merger is when the acquired company's employees and assets are merged into the purchaser's functional structure. Some tangential clues of this merger, besides the obvious (to me) "Open Digital Experience – Platform" general theme, could be that DB Hurley is now CTO Marketing Hub and that Mautic's employees have been "offered positions at Acquia". (as opposed to: will retain their positions). As I said, tangential at best. We'll see… 😉
From Dries Buytaert's blog: Acquia acquires Mautic to create the Open Digital Experience Platform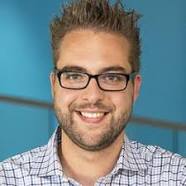 Dries is the creator of Drupal, co-founder of Acquia and currently CTO at Acquia, here's an excerpt of what he wrote in his blog:"Acquia acquired Mautic, the open source marketing automation platform, to deliver the only Open Digital Experience Platform as an alternative to the expensive, closed, and stagnant marketing clouds."
The pieces that make up a Digital Experience Platform, and how Mautic fits into Acquia's Open Digital Experience Platform. Acquia is strong in content management, personalization, user profile management and commerce (yellow blocks). Mautic adds or improves Acquia's multi-channel delivery, campaign management and journey orchestration capabilities (purple blocks).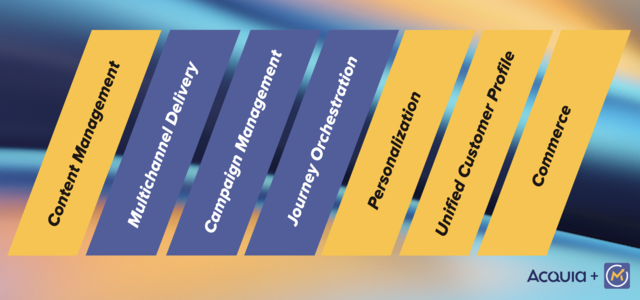 Note: If you want to further dig into Aquia's plan for the future I suggest you read this older post: https://dri.es/the-evolution-of-acquia-product-strategy. However, the image here below (taken from the same post) gives you quite a clear view too: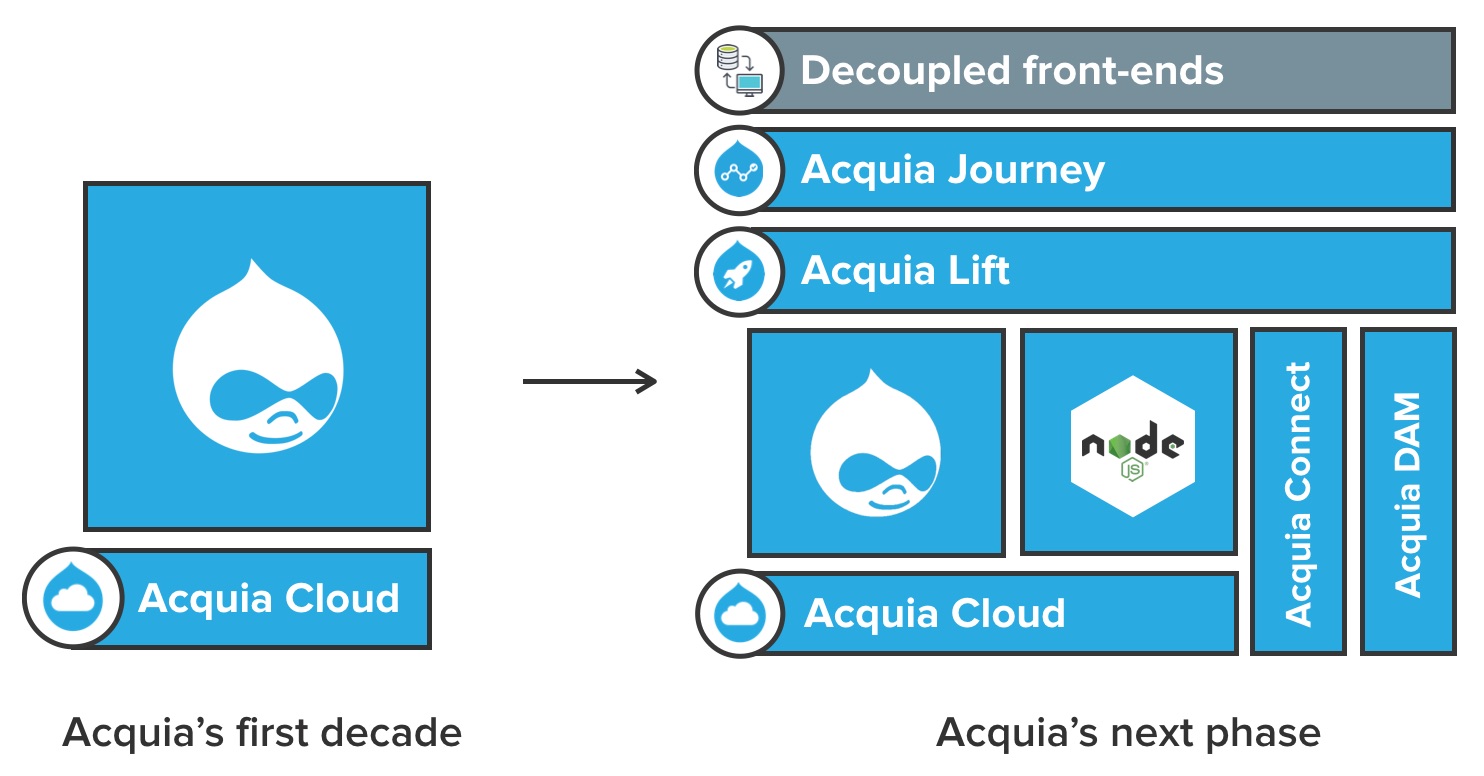 There are many reasons why we like Mautic, but here are my top 3:
Reason 1: Disrupting the market with "open"
Open Source will disrupt every component of the modern technology stack. It's not a matter of if, it's when.
I'm both proud and excited that Acquia is doubling down on Open Source. Given our extensive open source experience, we believe we can help grow Mautic even faster.
Reason 2: Innovating through integrations
To build an optimal customer experience, marketers need to integrate with different data sources, customer technologies, and bespoke in-house platforms. Instead of buying a suite from a single vendor, most marketers want an open platform that allows for open innovation and unlimited integrations.
Only an open architecture can connect any technology in the marketing stack, and only an open source innovation model can evolve fast enough to offer integrations with thousands of marketing technologies.
Reason 3: The same technology stack and business model
Like Drupal, Mautic is built in PHP and Symfony, and like Drupal, Mautic uses the GNU GPL license. Having the same technology stack has many benefits.
Digital agencies or in-house teams need to deliver integrated marketing solutions. Because both Drupal and Mautic use the same technology stack, a single team of developers can work on both.
The similarities also make it possible for both open source communities to collaborate — while it is not something you can force to happen, it will be interesting to see how that dynamic naturally plays out over time.
Conclusion
We're very excited to join forces with Mautic. It is such a strategic step for Acquia. Together we'll provide our customers with more freedom, faster innovation, and more flexibility. Open digital experiences are the way of the future.
My takeaways:
– The key-word here is (again) "Digital Experience Platform"
– "Integrated" is also starting to become a common word by now.
– Dries is very serious about "Open" (architecture) as well as about "Open Source".
Dries is obviously a brilliant programmer, a great business developer, and what most interests me, a passionate FOSS proponent.
The way he managed to give Drupal freedom to grow on its own and at the same time built Acquia is inspiring. I am really hoping this transpires in how the Mautic Community is managed from now on…



Michael Sullivan, Acquia's CEO: "The future of marketing is open. Only open architectures can easily fuse disparate data and marketing technologies, creating new avenues of advancement for machine learning to automate digital experiences at scale. All this will be enabled by open source developer communities that have shown how they continually innovate ahead of the market — maximizing marketing investments instead of rendering them obsolete. Mautic builds on our vision to deliver an Open Digital Experience Platform for our customers and partners. We've created the only true alternative to the stale marketing clouds that restrict marketers from the freedom to innovate."
If you are interested in Michael Sulivan's view of Acquia's future, you might be interested in this article by Jeff Engel that might shed some light into the future of Acquia and hence Mautic too: Acquia's New CEO Eyes Acquisitions, Not an Exit (Yet).
Sulivan is definitely a corporate beast and has a lot of experience with publicly traded companies,
The article reads" Its executive team has experience at publicly traded companies. Sullivan was previously a senior vice president at Hewlett Packard Enterprise (NYSE: HPE) and Micro Focus (NYSE: MFGP), and he hired former Akamai Technologies (NASDAQ: AKAM) vice president of finance Chris Andersen to be Acquia's chief financial officer, and former Micro Focus vice president Stephen Reny to serve as Acquia's chief operating officer. "
So, more acquisitions could be a possibility, and if Acquia is able to leverage all this cumulated potential and momentum, going public might not be so far away…
From Mautic Inc's Blog: Mautic Acquired By Acquia To Create World's First Open Digital Experience Platform
Matt Johnson (Mautic's CEO): In the category of "small, small world:" our two firms have actually known one another since before Mautic came into existence. DB and Dries, Mautic's and Acquia's respective founders, have known one another through open source circles for years; I've personally known the Acquia team for the past seven years, and even struck up a partnership with them at a previous company. And if that's not enough, Mautic actually incubated at Acquia's offices back in 2016 before we struck out on our own.
This move brings together Acquia's suite of products around content management and digital experiences, with Mautic's marketing automation platform and cross-channel communication capabilities. This combination creates an integrated digital experience platform that is more open, modular and modern than what the market offers today from closed, old-school vendors.
From Underscore's blog: A Win-Win-Win Acquisition,
Michael Skok is another key person in this Acquisition, as an early investor in both companies, must certainly have had a very heavy weight in this merger. This post from Underscore's blog gives a better view of the funding intricacies these 2 companies have shared along the years. A very interesting read indeed.

Skok is a financial mastermind and, as just demonstrated, a funding wizard too… His ability to spot interesting and valuable projects is now rewarded with a solid position on one of the more promising companies in the content and marketing markets with a strong position worldwide.

And finally, another article, from Xconomy that might have escaped most Mautician radars:
Brian Dowling's: Acquia Buys Open Source Marketing Automation Software Firm Mautic.

And a final clue about where Acquia wants to head to after this acquisition is found in this article:
Don Fluckinger's: Acquia-Mautic acquisition underscores open source model
"Acquia's Mautic acquisition announced yesterday elevated the content management vendor a few notches higher toward becoming a complete digital experience platform vendor, competing with the likes of Oracle, SAP, Salesforce and Adobe."
"[Acquia is] definitely trying to compete more with Adobe, but I would say they are not trying to compete with SAP and Oracle and Salesforce as much," Grannan said. "They aren't competing on a CRM or ERP play."
My opinion about what this merger means for both companies.
This merger is excellent news for everyone involved but much more so for the corporate side of things.
The potential of this merger is huge for both companies, right from day one, Mautic gains worldwide representation, direct and through Acquia's partners and at the same time Acquia extends its product line with a product that its current clients can and will purchase from them as well as extending their reach into a whole new market segment, that can now be more receptive to its current offerings.

Acquia is several times bigger than Mautic in absolute numbers and they will be able to almost immediately realize this acquisition into bottom line profits. Looking into the future, the potential market that Marketing Automation brings to the table is many times bigger than Drupal's market, POTENTIAL is the key word here.
As David Hurley said in the Q&A session, Acquia has the capability to tremendously accelerate Mautic's reach and tap into that potential market, but, in my opinion, the combined resulting product, or product line, or as Acquia has defined it, the Open Digital Experience Platform, resulting from the merger has a much stronger power than Mautic as a brand owned by Acquia. Acquia will get to the top of the Marketing Automation market, not thanks to the Mautic brand, but because they are already positioned and trusted as the top content management and delivery solution at the enterprise level.
Acquia, as an older and much bigger company, with its solid reputation, with hundreds of corporate level customers, certainly offers a more secure bet and a much more enticing prospect for both existing and new corporate customers to evaluate and potentially use this new Open Platform resulting from the merger. Their solid reputation will most probably very fast override the bad reputation Mautic has earned over time, especially as soon as they rename the product, so this is not only likely to happen, it's the only move that makes sense.
Both Founders (and both also CTOs) share loads about how they see the future of software, the future of content and the future of marketing, I can only see this spiraling into more and more new ideas, new projects and finally distilling into real innovations that we can all use and will most probably all love too.

When DB Hurley started Mautic he modeled it after Drupal and Acquia. Dries was his #1 mentor and advisor. When Mautic initially needed an office in Boston, it was given space in Acquia's headquarters, for almost 2 years. This long-standing relationship, it's now more evident than ever and has created really strong bondings. It is not totally crazy to think the current acquisition was planned a long time ago and the desired outcome all along.
This merger will, of course, take its time, people need to meet people, talent needs reallocation, business units need reorganizing, it can take several weeks or even months for this operation to fully go from the current acquisition to a complete merge where everything is smooth, streamlined and capable of reaching its full potential.

One thing is clear to me, I see no way these 2 companies can remain independent from one another, and at the same time, achieve this new vision of a Digital Open Source Platform-Cloud Experience. Oh man! it's getting difficult to remember the correct order to put all those words together!
In the meantime, I would expect small discrepancies here and there, minor inefficacies too, some people might currently hold redundant positions, some might not find the right place for themselves in the end. It's not simple to relocate talent, how do you relocate a founder? or a CEO? Most of the C-suite is unique in a company, there can't be 2 CEOs, but there can be lots of VPs, some people will be given new and imaginative titles, but some positions are quite unique, so a few people might need to step down for a while, even if just in title.
Just as Mautic Inc. has just relinquished its identity to become part of Acquia, over time, the Mautic Cloud product will probably have to lose its current identity too, It might become Acquia Marketing or Acquia Automation or maybe Acquia Omnichannel Engagement Engine :P, but most certainly it will be expanded and remodeled to fit this new vision, it might even get broken down into several sub-products, serverless style! but most probably it won't be "Acquia Mautic", but, what do I know… time will tell… Here below it goes, one last time, in case you didn't catch it yet 😉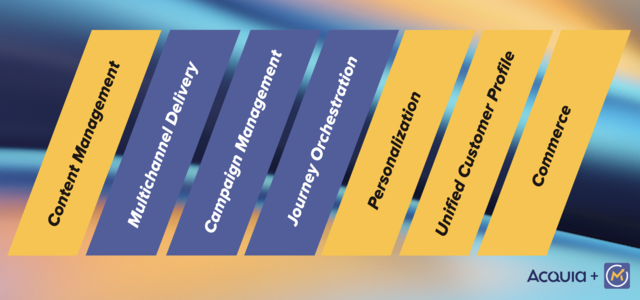 We are headed towards one unified experience for both the user and the marketer.

Acquia is targeting Adobe's cloud offerings, which is a fantastic idea. And Mautic perfectly fits certain empty spaces in that master plan. Around here, most of us know how true Dries words are: Open can still win!


But…
How do you compete or even take over a market dominated by giants?
With the disruptive power of Open Source…
Just Like David defeated Goliath with just a sling and a stone, Acquia has a very strong chance to defeat (or at least fiercely compete with) the many Goliaths in the rather vast and fastly expanding market of Digital Experience.

So, what was really being purchased? Where is the value?

I've discussed this particular topic with everyone that allowed me to, what was really being purchased, which is the asset that Acquia is paying for? Of course, without knowing the price paid, the task of knowing what was purchased gets a lot harder…

The Mautic code: The Mautic code is freely available on Github. The cloud version's main improvements over the free version are mostly on the infrastructure side, and Maestro can be replicated in a few days of work…

Mautic's clients: There aren't that many, and as they pay upfront for a year of service, I bet most of the money is already gone and they still have to service the existing clients… so while an important asset for the next year, this year's value is probably negative.

Mautic's Talent: Mautic has a lot of talent that already has a lot of experience on Marketing automation, MA salespeople (lot's of them), that Acquia needs too and it's getting harder and harder to hire new good MA salespeople lately. PHP Software engineers already experienced with Mautic and the MA concepts. So yes, Access to Mautic's talent is of a lot of value, but the most value, I think, comes from the fact that purchasing Mautic's talent will accelerate Acquia towards its objectives, by not having to learn the MA market from scratch. Certainly very, very valuable, but also not completely unique, as you could actually hire other people, just not so fast.
Proximity: Maybe not a huge strategic advantage, but it must have had some weight, Acquia and Mautic share several types of proximity: location proximity, shared history, personal relationships, funding partners, foss, PHP… I mean, the amount of proximity is huge and this will enormously facilitate this merger. Mergers, in general, are complex and dangerous, the huge amount of "things in common" that both organization share, is a strong guarantee of a smooth, productive and FAST, successful merger.
Control: This is the most valuable asset Mautic had, control over the direction that the only FOSS MA Software would be heading to. This is, to me, the most valuable item on the list because if you want to build an "Experience Platform" that can compete with Salesforce, Oracle, and of course Adobe too. You need to be able to steer the boat in the right direction.
Since Mautic was navigating the waters of Marketing Automation, and most certainly not the waters of "Digital experience" chances are that the Mautic project could have either remained stagnant or have gone in any direction other than the one needed to build the Open Experience Platform. Now Acquia has control of where the only Open MA software will head to.
Hi, thank you for reading this article, hope you found it useful.
My name is Yosu Cadilla, I've been both a Marketer since 1996 and a Systems Administrator since 2000, switching back and forth and mixing both trades. Since discovering Mautic, I've been specializing in large Mautic deployments as well as Mautic for agencies. Nowadays all my clients are Mautic related.
If you are planning on deploying Mautic on a large scale, or if you are undecided about Mautic being a good fit for your organization… let's have a chat! yosu.cadilla@gmail.com